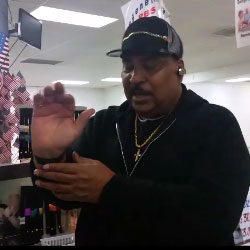 Calvin G shares his story about wearing the Regenerating PBS Wristband
Continue reading Pain Relief and Balance
Margaret just purchased the Regenerating PBS Wristband in the Myrtle Beach Location.
Listen to what she has to say about her Hip Pain.
Continue reading No More Hip Pain
Hi Marty,
I purchased the band this past Sunday from you after you demoed on my stability test. It's the second morning I have gotten up after wearing it since I got it and I can already tell an improvement in my morning routine; get out of bed easier & less pain. Looking forward to spreading the word to everyone I know about this wonderful pain reliever I have found! Take Care.
Denise G, North Carolina